In addition to the daily struggles of living with addiction or illness, the logistical process of recovery can seem uncertain. Fortunately, emerging treatments like Deep TMS can provide support.
Deep Transcranial Magnetic Stimulation (Deep TMS) is an exciting, innovative treatment that offers effective relief for concussions, PTSD, depression, OCD, anxiety, addiction, and more. Magnetic fields stimulate different brain areas for a quick, painless treatment that requires no downtime for clients. Deep TMS has been proven to effectively promote healing for various conditions.
How Does Deep TMS Work?
Deep TMS uses electrical impulses to regulate the brain's production of neurotransmitters, leading to improved mood and mental stability. All Points North utilizes technology developed by BrainsWay, an international company specializing in H-coil Deep TMS devices.
Inside the helmet, BrainsWay's unique, patented H-coil technology works to stimulate deeper and broader regions of the brain directly. The coil formation differentiates BrainsWay from more traditional transcranial magnetic stimulation, a therapy that has not evolved much since its inception in 1985⁴.
At All Points North, we have three helmet options from BrainsWay, all with different coils. Each coil is uniquely designed to treat depression, anxiety, OCD, or smoking addiction.
Ease of Treatment for Any Lifestyle
Deep TMS offers significant results, even within the first treatment session. A padded helmet facilitates magnetic field stimulation for 18-20 minutes at a time. Schedules will vary based on the primary focus of treatment, and clients can expect to see additional improvements as they continue with treatment.
Deep TMS clients report no memory loss, systemic side effects like disorientation or drowsiness, or lethargy. This means clients can return to their day, as usual, completing a day's worth of treatment in less than 30 minutes. The overall simplicity of Deep TMS therapy sessions can be a huge relief for clients frustrated with a lack of progress in symptom management for a variety of conditions. No anesthesia or hospitalization is required for Deep TMS.
Who Can Benefit from Deep TMS?
Deep TMS is a safe procedure that can bring life-changing relief to clients, and many clients who have not seen results with medication improve after Deep TMS.
Deep TMS is an FDA-approved treatment that has proven results for clients suffering from:
Major Depressive Disorder (MDD)
Anxious Depression
Smoking Addiction
Looking towards the future, BrainsWay also has validated treatment helmets for:
Bipolar Disorder
Post-Traumatic Stress Disorder (PTSD)
Schizophrenia
Alzheimer's Disease
Autism
Chronic Pain
Multiple Sclerosis
Parkinson's Disease
Post-stroke Rehabilitation
Although not yet FDA-approved in the United States, these treatments show a lot of promise elsewhere in the world, and the approved therapies offer encouragement for what's to come.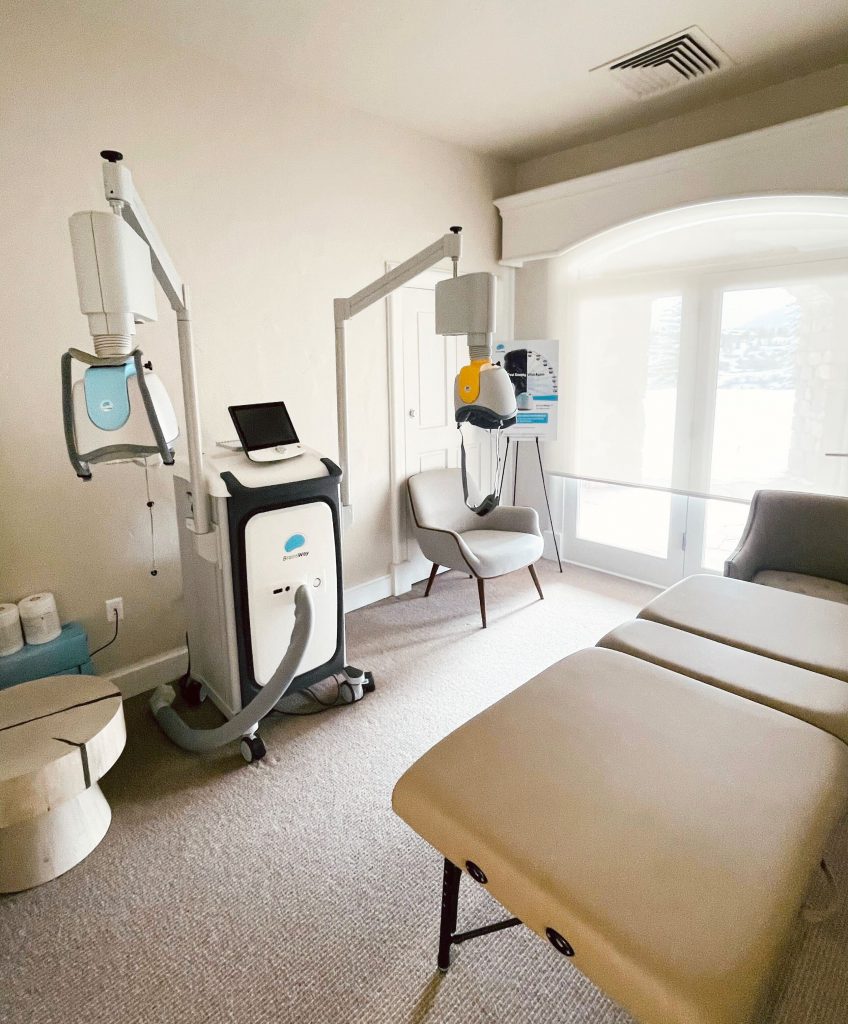 Is Deep TMS Safe?
Deep TMS has been tested in over 60 clinical studies for various indications in leading institutions worldwide.
The first and only FDA-approved Deep TMS treatment was cleared in 2013 by BrainsWay after a study on a group of clients who had found no alternative sources of relief in previous depressive episodes
Deep TMS achieved a clinical response for 75% of clients with MDD¹
50% of clients struggling with MDD achieved remission from depression¹
In a 2020 study of over 200 clients, nearly 60% of OCD clients experienced reduced symptoms, with 70% of clients experiencing improvement after an average of 18.5 Deep TMS sessions²
Over 50% of OCD clients experienced sustained symptom improvement after an average of 20 sessions²
Researchers found that focusing brain stimulation on "the medial prefrontal cortex and anterior cingulate cortex significantly improved OCD symptoms," confirming the efficacy of Deep TMS³
Risks and Side Effects of Deep TMS
There is always concern about potential risks and side effects when it comes to a new treatment regimen. Most Deep TMS clients experience minimal to no side effects, and thankfully, none of the side effects are severe.
Some clients reported the potentially positive side effect of getting better sleep and feeling more well-rested upon waking. Other clients reported a mild headache after sessions, described as a "transient" headache, similar to when one wears a tight ponytail or headband for too long. Other less common side effects include jaw pain and discomfort where the helmet rests on the head.
Deep TMS is entirely non-invasive, so there are minimal overall safety risks. Clients with an electronic medical device anywhere in their body, including magnetic or medical devices in the head (except for standard fillings), or clients who have had a seizure in the past should not undergo Deep TMS treatment⁵.
While it is safe to undergo Deep TMS therapy in conjunction with other medications and therapies, it's always essential for the client to be transparent with their provider to ensure other therapies and medications do not conflict with Deep TMS before starting treatment.
Cultivating Interest in New Therapies
Experts believe mental health stigma plays a part in the skepticism surrounding newer treatment modalities like Deep TMS.
Jason Thompson, Vice President and Director of the Depression & Concussion Division at APN, believes further education is part of the answer to ending this stigma. Jason says that the more we can promote Deep TMS as a viable treatment modality, the more we can educate practitioners, physicians, and clients. Education and awareness can bring great healing to the whole community of healthcare providers and clients.
Thompson notes that the clinical trials focused on Deep TMS make every effort to isolate the effectiveness of the treatment; it is essential to rule out the placebo effect in any reliable trial. Healthcare providers took extreme precautions in Deep TMS clinical trials and even refrained from communicating with the clients to avoid influencing the results.
Deep TMS Applications at APN
All Points North offers Deep Transcranial Magnetic Stimulation for medication-resistant major depression, anxiety, treatment-resistant OCD, and we recently acquired a Brainsway helmet specifically targeted at smoking cessation.
APN has seen great results with Deep TMS treating Major Depressive Disorder, anxiety, and OCD, so there is enormous potential for this new helmet to impact our clients' quality of life positively.
As one of the leading causes of preventable death worldwide for several decades, cigarette smoking is a global epidemic⁶. Treatments like Deep TMS that are easy, painless, and effective are extremely valuable, especially considering how challenging it can be to break the cycle of addiction when cigarettes are virtually everywhere.
Finding Relief with Deep TMS
Deep TMS is a one-of-a-kind, effective, non-invasive, refreshingly simple solution for several illnesses that have been historically difficult to treat. After only a few short sessions, clients see a marked improvement over side effects caused by many medications and electroconvulsive therapy.
Although it's an ostensibly straightforward mechanism, a remarkable amount of research has gone into the H-coil technology pioneered by BrainsWay. Whether you're a client or healthcare provider, Deep Transcranial Magnetic Stimulation is sure to make waves in the medical field in the future.
Deep TMS is available at All Points North Lodge in Edwards, Colorado, and also at our new Concussion and Depression Center in Denver, Colorado. To get more information about Deep TMS and to see if treatment is an option for you, call 855-510-4585 or use the to speak with an APN provider today.
Reference
"Deep TMS Treatment for Depression." BrainsWay, BrainsWay, 6 Jan. 2022, https://www.brainsway.com/treatments/major-depressive-disorder/.
Roth, Yiftach et al. "Real-world efficacy of deep TMS for obsessive-compulsive disorder: Post-marketing data collected from twenty-two clinical sites." Journal of Psychiatric Research vol. 137 (2021): 667-672. doi:10.1016/j.jpsychires.2020.11.009
Carmi, Lior et al. "Efficacy and Safety of Deep Transcranial Magnetic Stimulation for Obsessive-Compulsive Disorder: A Prospective Multicenter Randomized Double-Blind Placebo-Controlled Trial." The American Journal of Psychiatry vol. 176,11 (2019): 931-938. doi:10.1176/appi.ajp.2019.18101180
"Learn about Brainsway's Innovative Technology." BrainsWay, 5 Jan. 2022, https://www.brainsway.com/how-does-it-work/technology/.
Deep TMS Side Effects – Are There Any Safety Concerns? BrainsWay. Accessed November 5, 2021. https://www.brainsway.com/clients-faqs/are-there-any-safety-concerns-or-side-effects-related-to-deep-tms-therapy/
Deep TMS: Smoking Cessation Treatment – BrainWay. BrainsWay. https://www.brainsway.com/treatments/smoking-addiction/
Learn About BrainsWay's Deep TMS Treatment Technology. BrainsWay. Accessed November 4, 2021. https://www.brainsway.com/how-does-it-work/technology/
Why BrainsWay's Deep TMS Therapy? Deep vs.Traditional TMS. BrainsWay. Accessed November 4, 2021. https://www.brainsway.com/how-does-it-work/build-deep-vs-traditional-tms/
Reviewed by Emmeline Massey MSW, LSW