SMOOTH START TO RECOVERY WITH
DETOX & WITHDRAWAL MANAGEMENT
There is hope for life beyond addiction. If you've tried to detox before without success, or you're nervous about experiencing withdrawal for the first time, we get it. Drug and alcohol addiction can feel like a trap with no end in sight. The truth is your recovery story is just starting, and we can help you write the first chapter. Detox at APN Denver touchpoint for both Colorado natives and clients traveling in for treatment from around the country, located just 20 minutes from Denver International Airport. Our team of detox experts will help you safely transition out of addiction with 24/7 medical supervision, high quality detox protocols, and high-end finishes. Detox is tough, but you can set yourself up for success with the right team and an optimal healing environment.
Step out of struggle and into a purposeful, healing, fulfilling life. Let's find your way forward.
Custom-Curated Programs
Your story is unique. We'll build a treatment protocol that works for your specific needs.
Clinical Excellence
Evidence-based therapies supported by holistic interventions help you do the hard work of healing that sticks.
Whole Person Care
You are more than your addiction. We recognize the social, environmental, and genetic factors that may have put you at risk.
Safe and Comfortable Environment
Heal outside of the environment that made you sick. We make your privacy, safety, and comfort our priority.
Connect with Admissions
Begin the Process Online
THIS IS YOUR FIRST STEP
A life free from addiction starts with one click or one call. Even in your darkest moments, there is hope. You are worthy of recovery, and we can help. All Points North exists to help you safely detox from alcohol and substances to lay the foundation for real recovery and a life beyond addiction. Our licensed clinicians provide 24/7 medical supervision and oversight in a medical campus with high-end touches for comfort and peace. We offer comprehensive treatment services that go beyond the typical detox experience with a thorough nursing assessment, education, and therapeutic care.
YOUR FULL CONTINUUM OF CARE
Wherever you are, you can start there. All Points North has built a full continuum of care to provide multiple "front doors" where you can jump into programming, whether you're seeking treatment for the first time, tackling a relapse, or building recovery capital well into your journey. APN offers drug and alcohol detox outside Denver, CO. Residential treatment and partial hospitalization programs happen at All Points North Lodge in Edwards, CO. Virtual intensive outpatient programs (9-10 hrs./week) are available through the APN Connection app. Outpatient groups, 1-on-1 therapy and psychiatry, and support groups are also offered virtually through our APN Connection app.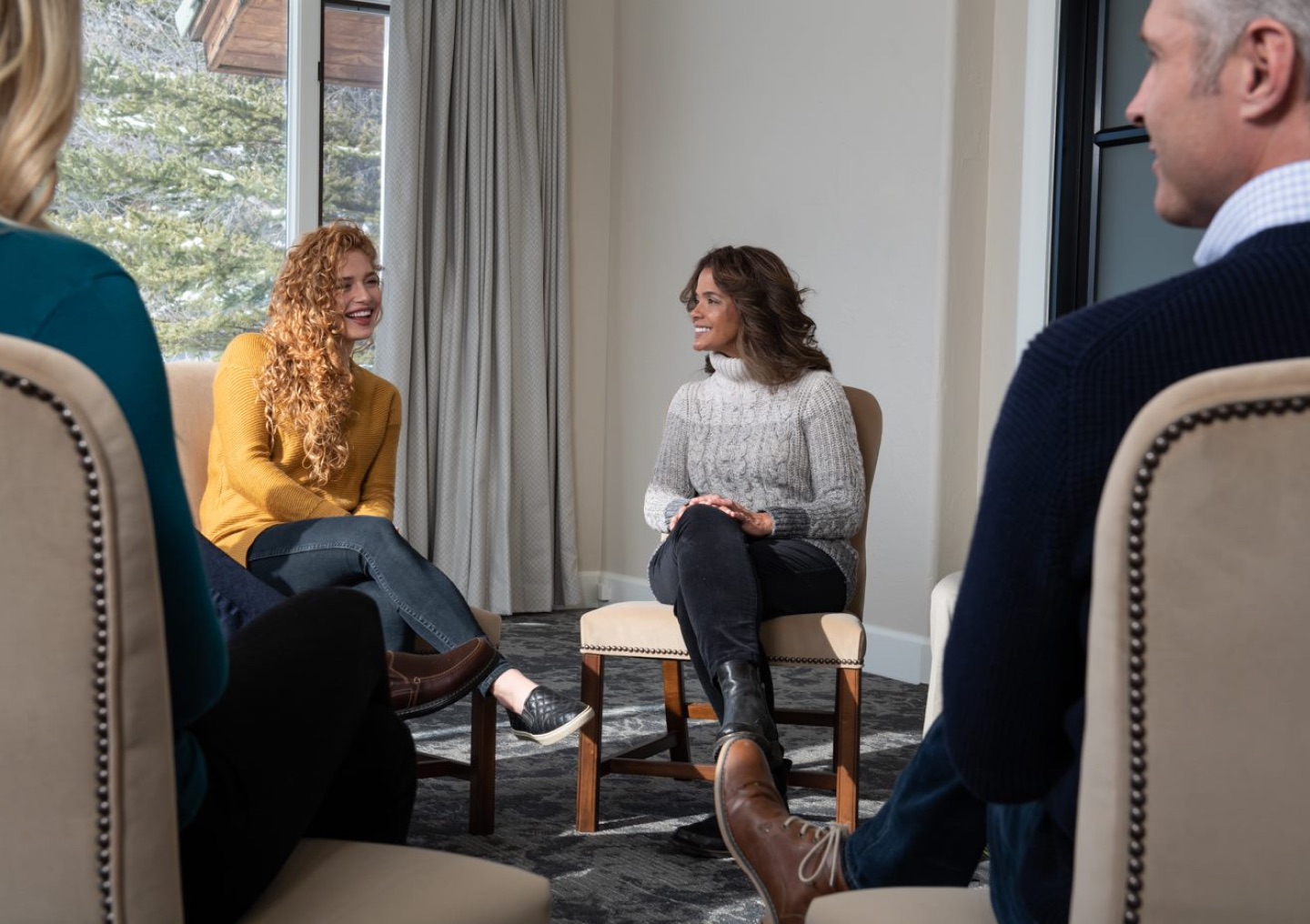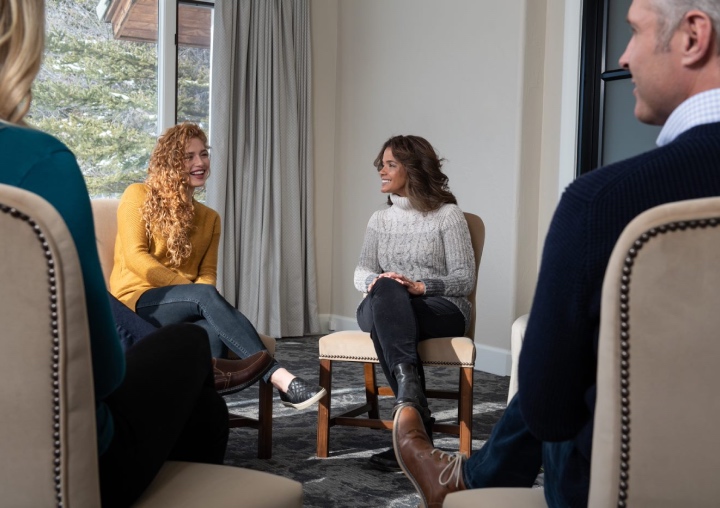 YOUR DETOX TEAM
Our team of detox professionals is on your side from Day 1. They'll work to gather information, learn your story, and nail down a clear picture of the past and present to determine your best path toward healing. They'll guide you through each assessment and meet regularly to ensure that your treatment evolves as you progress through detox. Your detox team will walk you through evaluations, medication management, and behavioral health recommendations. They can also help you plan your next steps after treatment as you move through a full continuum of care.
MEET THE TEAM
AN OPTIMAL HEALING ENVIRONMENT
The typical detox environment is sterile, cold, and uninviting, but we've built a facility that is the exact opposite. Each room is outfitted with your comfort in mind, from a luxury mattress to high end touches that make you feel a little more at home. With natural filtered light in the common areas and dimmable lighting in your room, you'll find a balance of controlled stimuli that can be adjusted to your preference. Our locker room-style bathrooms offer a spa-like shower with massive private stalls, just steps away from your recovery suite. We have a staff chef on-site for healthy, healing meals and snacks, plus plush sofas in the common area if you want to socialize with other clients.
HANDS-ON DETOX
All Points North Detox is a 24-hour medical detoxification center providing excellent medical and clinical care for clients detoxing from substance misuse. We offer a multi-disciplinary approach to treatment tailored to your unique needs because we know that every client has a different story.
Our detox clients can expect a length of stay of anywhere from 3-10 days, with 5 being fairly average. You'll go through APN's usual pre-admission process in order to admit for detox. Shortly after arrival, you'll receive a thorough nursing assessment, and we'll start your detox protocol.
Throughout your stay, you can expect a proper detox protocol with medical supervision, appointments with various members of the APN multidisciplinary team, medication-assisted treatment individualized to your specific needs, and symptom-specific protocols for withdrawal and stabilization. Prior to discharge, you'll receive recommendations from the clinical team regarding next steps and transportation to APN Lodge or coordination with other facilities or levels of care.
ADDITIONAL ASSESSMENTS
We offer in-person assessments on site at APN Lodge and nearby. Assessments can be especially beneficial for:
Individuals with mental health conditions and/or substance use disorders who may need diagnostic clarification or who display behaviors that interfere with daily functioning
Individuals who may have difficulties with relationships or personal ethics (e.g., poor personal relationships with loved ones, improper use of one's authority at work, criminal activity, etc.)
Individuals whose functioning in the workplace has decreased significantly, whether due to the issues mentioned above, a substance use disorder, or to another psychiatric disorder (e.g., depression, bipolar illness)
Individuals who have come to the attention of authorities because of legal problems (e.g., DUI, assault, theft, poor boundaries)
Individuals who exhibit co-occurring diagnoses with high acuity needs such as bipolar disorder, depressive disorders, anxiety disorders, personality disorders, PTSD, & ADHD
Assessment Components:
Cognitive and Neuropsychological Testing
Psychological Testing/Assessment Battery
Psychiatric/Addictionology Evaluation
Psychological Evaluation/Biopsychosocial Assessment
Lab Testing
Room and Board
Group Therapy Participation
Collateral Source Interviews/Record Review
Outbriefing/Feedback Session
Collaboration with Referral Source
NEXT STEPS IN TREATMENT
If you're ready to move forward in treatment, we can help. APN Lodge is our primary location for residential and partial hospitalization treatment – with programs typically lasting 30+ days. You will work with a primary therapist one-on-one and join a vast array of tailored groups to help you navigate your past, present, and future. Your treatment plan will be determined based on your individual needs, and not all therapies will be right for everyone.
When you pull up to APN Lodge, our world-class hospitality team will welcome you at the door, show you to your suite, and get you oriented with all the beautiful amenities the Lodge has to offer. Our treatment team will create your treatment plan by pulling from interventions including dialectical behavioral therapy (DBT), cognitive behavioral therapy (CBT), mindfulness, process groups, family therapy, family-of-origin work, psychoeducation, eye movement desensitization and reprocessing (EMDR), art therapy, music therapy, experiential therapy, and a variety of other modalities.
WHERE TO START
It's easy to get started with All Points North. Just call, live chat, or send us a message to connect with a trusted member of our team. From there, we can listen to your story, assess your needs, answer initial questions, verify your insurance benefits, and discuss the next steps. We genuinely want you to get the best help, so if we think you would be better suited for a different facility, we can let you know that too. Once you hop on the phone with us, our team will walk with you through each next step. These initial phone consultations are free, so there's no risk to call. We are here for you.
PROGRESS IS POSSIBLE
No matter how many times you've tried before, and no matter where you are now, there is hope for you. At All Points North, we exist to help you find your way forward – through detox, in-person treatment, or virtual programs. APN can help you move through detox, manage your symptoms, address underlying causes of addiction, and help you step into recovery with confidence.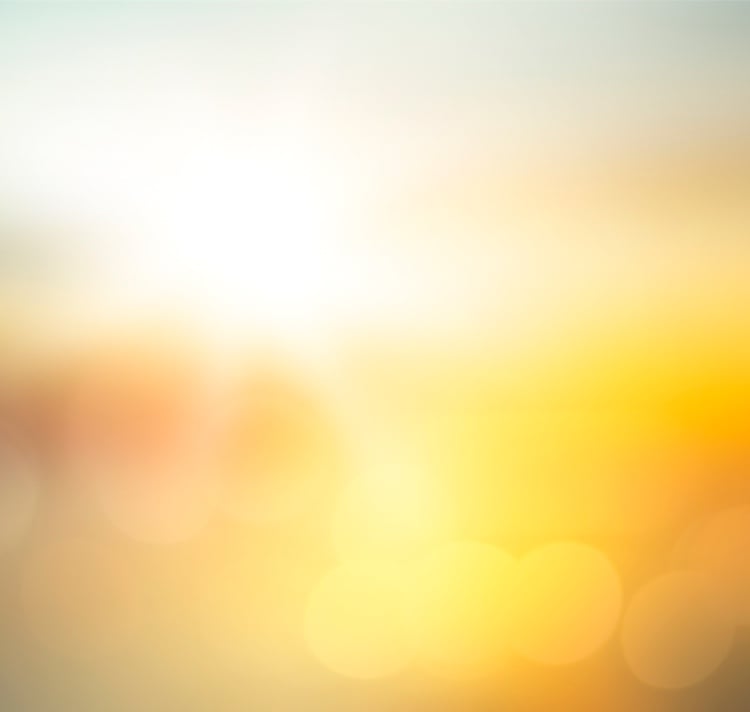 Talk with our Team
Want more info? Contact our admissions team for a free consultation or more details about any APN programs.