Even for something fun like travel, straying from your normal routine can challenge your sobriety. Traveling while sober presents a lot of new obstacles, and temptation is everywhere. Parties, dining out, travel anxiety, and family dynamics are just some of the triggers you can anticipate.
However, traveling while sober is possible and can still be fun if you take good care of yourself and follow these tips.
1. Set Your Intentions
Being honest with yourself is a sign of recovery thinking. The inverse is also true: planning a vacation with an ulterior motive and knowing that you plan to use traveling as an excuse to misuse drugs or alcohol is a sure sign of relapse behavior. One way to get clarity on your intentions is to talk it over with your therapist or a trusted friend who knows about your recovery and will be honest with you.
Before you even book a flight, visualize yourself enjoying the trip without substances. Ask yourself what you hope to gain from your experience. Visualizing your success will create a "script" in your brain and help you focus on your goals if you encounter temptations.
2. Know Your Triggers
Before you start looking at brochures or making plane reservations, have an honest conversation with yourself and your traveling companions about your triggers and concerns about traveling while sober.
If you know it will be hard to get through the airport without stopping for a beer, make an action plan to handle that trigger. You can visit a coffee shop for an iced latte or have a friend hold your money until you get on the plane. Finding ways to minimize exposure to triggers can help you feel more resilient when you encounter something unexpected or unavoidable.
Stress is one of the most common triggers for drinking or misusing drugs, and travel can be a huge source of stress for many people. While it may be tempting to turn to old habits to feel more comfortable, travel is a great opportunity to dig into healthier stress management techniques. Some suggestions for reducing stress on the spot include:
Slow, deep breathing
Listening to music
Massaging your hand, especially the large muscle under the thumb
Counting backward from ten
Taking a brisk walk
Stretching
Meditating
Enjoying a cup of green tea
Although it sounds cheesy, a sense of humor can also be a great stress management tool. Laughter reduces stress, boosts endorphins, and allows you to recenter. If you can put some space between yourself and your triggers, you can move forward with more awareness.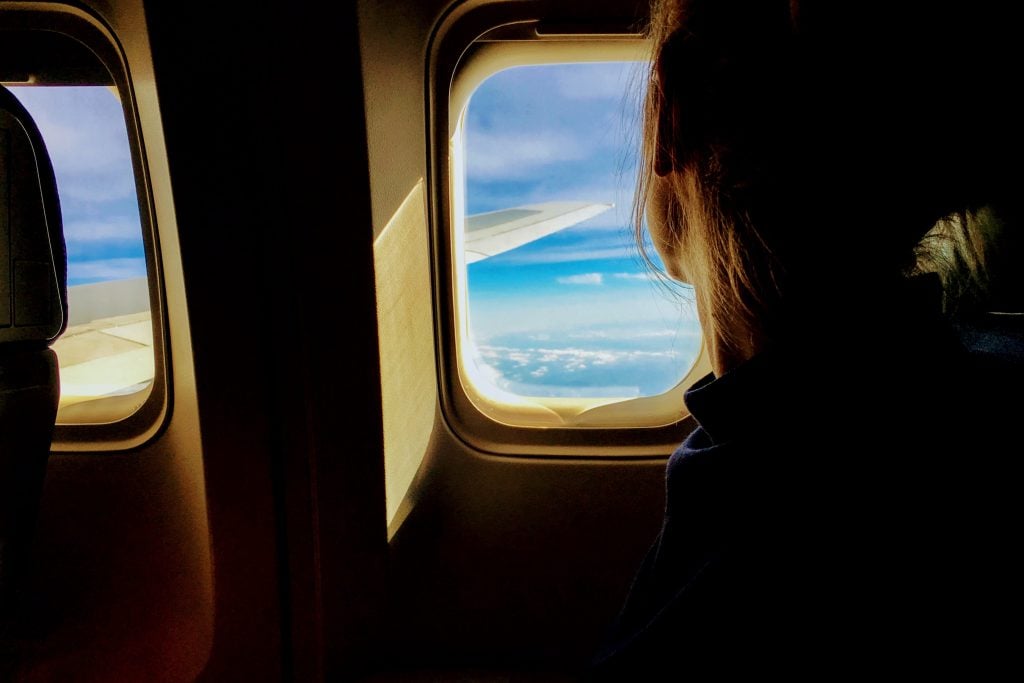 3. Plan Your Location
If possible, make travel plans that don't include high-trigger places or events. Cruises, popular spring break locations, and all-inclusive resorts place a big emphasis on drinking culture.
Traveling while sober can be easier if you choose locations that offer immersive activities that are completely new to you. Visit local museums, take advantage of outdoor activities like hiking and swimming, and try some of the local cuisines.
If you're traveling home to visit family, avoid going to the places you associate with drug or alcohol use, such as a favorite bar or a certain friend's house. You can create new routines, even in a familiar location.
4. Stay Connected to Your Sobriety
Going on vacation doesn't mean you have to distance yourself from your recovery support. In fact, you may need support meetings to avoid the temptations associated with traveling. Plan ahead and find the appropriate 12-step or peer-support meetings in the area you'll be visiting.
Another alternative is to plan virtual therapy sessions, meetings, or phone calls with a sober peer back home. Scheduling these connections ahead of time will help keep you accountable and give you an extra boost of confidence as you enjoy your adventures.
5. Do Your Research
Do all you can to learn about the place you'll visit, the customs, and even the modes of transportation you'll need to navigate the area. New experiences are part of the fun of travel, but too many new things can trigger the desire for old comforts for people with substance use disorders.
In addition to knowing about the physical location, make a list of things you need to have with you to resist triggers. Do you need your journal to write daily affirmations or a certain kind of tea to get your morning started? Take a few moments to think about the healthy coping habits you've developed in recovery.
Think of traveling while sober as traveling with any other type of disorder. If you suffered from migraines, you wouldn't take off on a cross-country trip without your medication. If being prepared means bringing extra items with you, that's alright. Your sobriety is worth the cost of checking a second bag at the airport.
6. Maintain a Routine
Travel disrupts your normal sleeping and eating schedule. Being in different time zones and sleeping in different beds can challenge anyone's serenity. However difficult it may be, it's important to maintain as much of your regular schedule as possible.
Getting exhausted, skipping meals, or eating junk food lowers your ability to deal with triggers healthily.
Carry nutritious snacks with you while traveling so you'll always have something on hand. Prepare for sleep by packing earplugs, natural sleep aids, chamomile tea, a sleep mask, and a light blanket in your carry-on bag. Try to wake up and go to sleep at normal times, and if you're in a new time zone, try to soak up the sun to help your circadian rhythm adjust.
Finally, don't forget to exercise regularly. Sitting for long periods in the car or on a plane can be hard on the body. You don't have to stay stuck in the gym – if your vacation plans don't already include plenty of outdoor activities, schedule a walk or a workout daily.
7. Plan Morning Activities
It's important to leave room for spontaneity while traveling. After all, you never know where a new adventure will take you. However, planning a morning activity will give you focus and an excuse to head to bed at a reasonable hour if travel companions want to stay out late and party.
Find a yoga class, a bus or walking tour, a cooking class, or a museum excursion that gets you up and out of the hotel in the morning. Choose activities you've always wanted to try and are excited about. The more fun you have without substances, the more confident you will be in yourself and traveling while sober.
8. Remove Temptations
Staying sober requires diligent self-care. If you need to have a minibar removed from your room or ask your companions not to drink or use substances while you're together, don't be afraid to do those things. People who love you and want the best for you will be happy to provide whatever support you need to stay on track with your recovery.
9. Address Conflicts Quickly
If you're traveling with friends or family members, small disagreements are almost guaranteed. Travel makes everyone tired, grouchy, and out of sorts. Don't let it derail your good time or create an excuse to drink.
Lean on the tools and strategies you've learned throughout your recovery experience to communicate clearly and resolve problems as they arise. Letting conflicts fester puts your recovery at risk and diminishes your travel experience.
Laying the Foundation for Sober Travel
Being in recovery means re-learning how to do many "normal" things without drugs or alcohol to create a false sense of comfort. Feeling anxiety about traveling while sober is natural, especially if it's your first time getting away since you started your recovery journey.
When it comes to travel anxiety, you are not alone – almost everyone feels nervous when they board a plane or visit a strange place. Instead of focusing on your fears, think about how far you've come. The travel plans you're making probably wouldn't have been possible before you found the courage and perseverance to embrace a substance-free life.
If you need more support with your sobriety, we're here to help. You can access virtual therapy with APN from anywhere in the world. We're here to support you, wherever you go. Get support today by calling 855-510-4585 or start a .