Historically, stress and substance abuse are inextricably linked; previous events that caused widespread stress and panic, like natural disasters, economic downturns, and acts of war, have been shown to increase rates of substance misuse¹.
The COVID-19 pandemic has increased stress for all of us. As things return to "normal," unprecedented conditions continue to pose challenges in every area of our society. As new variants arise, many people are struggling to feel supported.
In moments of stress, it's normal for old unhealthy coping mechanisms to creep back in. This can be especially challenging who struggle with substance use disorder. As a result of the pandemic, substance use and overdoses have skyrocketed to new highs.
New Stress in the Pandemic
What makes the pandemic different from previous eras of national and global strife is that we cannot come together for support from each other. On the contrary, physical isolation is strongly encouraged and, in some situations, enforced.
For many, this has been the most challenging aspect of COVID; as humans, we all rely on connection and community to feel grounded and live a well-rounded, satisfying life. Those who struggle with substance use experience this to an even more extreme degree, as communities formed around sobriety and harm reduction offer a lifeline out of destructive patterns and behaviors¹.  Without those communities to rely on, many people find themselves in the dangerous, scary situation of losing a routine that keeps them mentally and physically healthy.
Technology Use Compounds Stress
Unfortunately, the necessary physical distancing associated with a highly contagious virus is not the only stressor that may exacerbate drug use and misuse. Just being aware of the pandemic has devastating effects on our mental health.
While it may be too soon to quantify these lasting effects, one can take a look at any social media feed or online news outlet and become overwhelmed by the onslaught of bad news. And since many of us are working and living from home, with fewer healthy distractions or in-person events to turn to, this daily online experience can be paralyzing.
Of course, many communities have attempted to create spaces online to foster connection and provide comfort. Although we can't replace in-person sobriety groups, online alternatives may offer some much-needed support.
Ripples of Stress in the Wake of the Pandemic
Other factors add to the stress that pushes people towards unhealthy coping methods.
Financial Insecurity
The financial insecurity of sudden unemployment can be enormously distressing. Following the loss of a job, many experience depression and dissatisfaction. An increase in free time, lack of health insurance, and limited access to healthy support systems can create a dangerous situation for those susceptible to substance use disorders.
COVID Fatalities
Additionally, losing a loved one is a triggering event that causes many people to turn to substances that numb the pain. With the number of lives lost to COVID-19, a huge portion of the global population has experienced this loss. It can be especially hard to move through grief when we're required to practice social distancing. Many families were unable to hold typical funeral ceremonies at the peak of COVID. This is just one of the ways COVID-19 has had devastating impacts on mental health.
Essential Workers Face Higher Risks
A large portion of the population has been working on the front lines of this pandemic in health care services and other essential industries. Essential workers face stressful physical and emotional conditions without support from unprepared workplaces. These groups, too, may turn to drug and alcohol misuse as their job conditions become too much to bear.
Limited Access to Support
Even steps toward recovery are made more complicated by the pandemic. With safe injection sites and methadone clinics closed, disrupted access to medication, and physical distancing measures in treatment centers, COVID has created additional hurdles for those who face an already challenging process.
Changes in Routines and Responsibilities
Many parents have struggled with the transition from sending their children off to school or daycare every day to 24/7, round-the-clock childcare. For parents who work from home, the added stress of caring for their children and managing their online schoolwork schedule, all while balancing their job responsibilities, can culminate into the perfect stress storm.
Normalized Problematic Behaviors
All around us, recreational drug and alcohol use is being normalized in new ways. With the sharp rise in popularity of Zoom calls with friends and family, the opportunity to drink "socially" quickly adapted. Without the barriers of driving home, waking up early to go into the office or school, drinking became more accessible and acceptable than it's ever been.
More time at home has pushed those with less regular drinking habits into the category of excessive drinking², turning a less ideal yet manageable habit into a dangerous one. Overall, instances of drinking went up 14% from 2019 to 2020.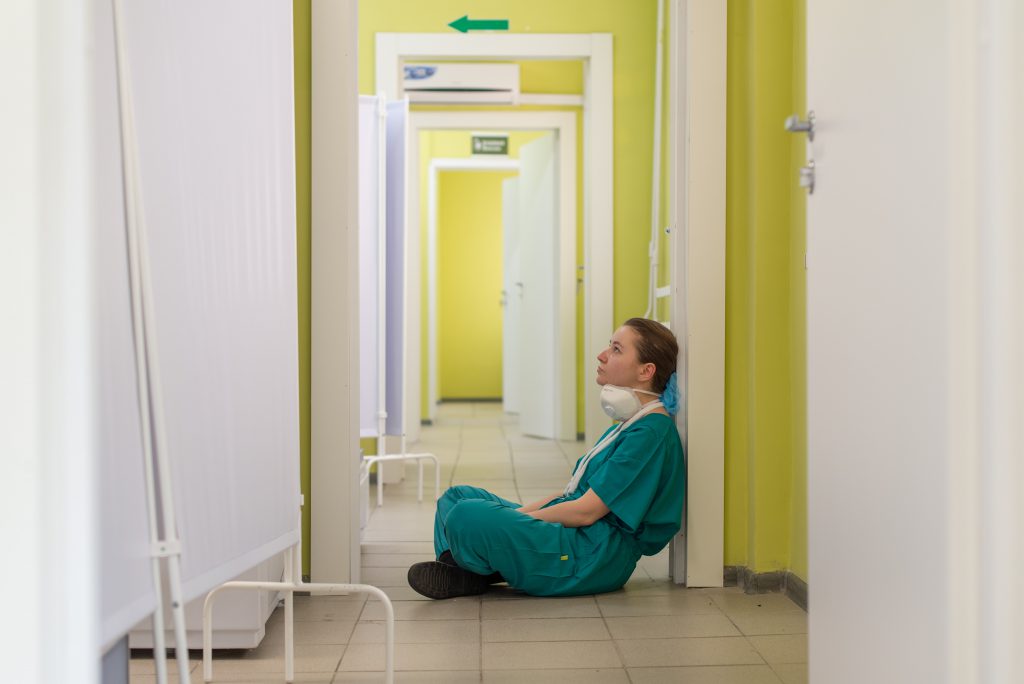 Increased Opportunity, Increased Overdoses
This mix of unexpected and unprecedented devastating changes to our routines has made the pandemic such a challenging time. As a result, we see an increase in recreational use of substances and overdoses.
Some people who may recreationally use drugs may be slowly or unknowingly increasing their use as they struggle with the new reality of COVID³. As people struggle to manage pain in their lives, drug use has gone up drastically.
In June 2020, the CDC reported that 13% of Americans started or increased substance use as a way of coping with stress or emotions related to COVID-19. Drug overdoses reached an all-time high in 2020, with 93,331 deaths in the US alone.
Worsened COVID Outcomes for Those Struggling with SUD
Not only are more people at risk for increased substance use and overdose, but those who struggle with SUD face worse outcomes for COVID. As with many pre-existing conditions, substance use disorders place individuals at a higher risk of severe COVID-19. Someone with a previous diagnosis of a substance use disorder at any point in their lives is 1.5 times more likely to get COVID-19 than someone who has not⁴.
The effects of drinking, smoking, and other substances may suppress the immune system, making it harder for the body to fight infection. Behaviors associated with drug use, especially injectables, pose additional risks. Sharing syringes and other paraphernalia without proper sanitation can easily spread COVID-19⁴.
Finding Hope in the Face of Immense Despair
Across our culture, we see constant negative messages of everything from nihilism to general catastrophizing of the pandemic. As unhealthy as living in the delusion that things will suddenly get better, it's equally harmful to believe that things will never get better.
Despite how hard and alienating this time has been, there are indisputable silver linings.
Telehealth Creates More Accessibility
The necessary increase in telehealth services opens a door for those struggling with mental health issues. This could be a massive opportunity for those of us who may become overwhelmed by the complicated nature of our healthcare system or those who may struggle to work in-person appointments into their busy lives.
Redefining Self-Care as a Necessity
The topic of "self-care" has evolved from the notion of trends like skincare routines and yoga to more basic, necessary practices that we can incorporate into our lives to improve wellness.
In addition to gaining clarity around what we need to refill our cups, we're also reevaluating our relationships with work. With careers disrupted in different ways, many people are reprioritizing their happiness and mental well-being over exploitative work environments. As a result, we're seeing a labor movement that may improve working conditions across industries.
Removing Stigma and Embracing Compassion
As we're surrounded by loss of life and livelihoods, many people face challenges at a rate they've never experienced before. With a new level of stress and no time to cope, those who never had an issue with substance use are turning to drinking, smoking, and drug use. As a previously isolating experience becomes more widespread, one can only hope that there is an increase in compassion and understanding for those who suffer from addiction.
Despite the suffering the COVID-19 pandemic has brought, perhaps we can come out the other side better: more understanding, less judgmental, and willing to be more empathetic to those struggling with substance use disorder.
Get Help for Substance Use Disorder
At All Points North Lodge, we are committed to providing quality addiction and mental health services in the pandemic and beyond. We have numerous programs to help you, including telehealth services and in-person treatment options for addiction, mental health, and trauma at our facility in Edwards, Colorado.
We want to remind you that periods of heightened stress may bring up a barrage of emotions. This is entirely normal during a pandemic: we are all experiencing a colossal trauma, and we should not be expected to handle the burden of the pandemic individually. You are never alone in your struggles.
Your story matters, and we want to be there to support you. Contact one of our caring representatives by phone at 855-510-4585 or via to get started. This pandemic is challenging and isolating. Please don't suffer in silence — we're here for you.
Reference
Koob, George F. "Director's Blog: Alcohol Poses Different Challenges during the COVID-19 Pandemic." National Institute on Alcohol Abuse and Alcoholism, U.S. Department of Health and Human Services, Apr. 2020, https://www.niaaa.nih.gov/directors-blog-alcohol-poses-different-challenges-during-covid-19-pandemic.
Grossman, Elyse R et al. "Alcohol Consumption during the COVID-19 Pandemic: A Cross-Sectional Survey of US Adults." International journal of environmental research and public health vol. 17,24 9189. 9 Dec. 2020, doi:10.3390/ijerph17249189
Williams, Nicola. "How Has the COVID-19 Pandemic Affected Recreational Drug Use?" Edited by Benedette Cuffari, News-Medical.Net, 25 July 2021, https://www.news-medical.net/health/How-has-the-COVID-19-Pandemic-affected-Recreational-Drug-Use.aspx.
National Institute on Drug Abuse. "COVID-19 & Substance Use." National Institute on Drug Abuse, National Institutes of Health, 1 Nov. 2021, https://www.drugabuse.gov/drug-topics/comorbidity/covid-19-substance-use.
COVID-19 Pandemic Results in Increased Substance Use Among Regular Drug Users. Pharmacy Times. https://www.pharmacytimes.com/view/covid-19-pandemic-results-in-increased-substance-use-among-regular-drug-users