The pandemic has been life-changing for millions of people around the world. Many of us have lost loved ones to COVID-19 or struggled with the virus firsthand. All of us have experienced the lingering effects of social isolation and extraordinary changes. The desperate need for people to stay home and avoid group gatherings has pushed many people into a bad mental state.
Mental health and COVID-19 are closely related; COVID has demanded a lot of us, not just physically but also emotionally and mentally. The fear for our health and the health of our friends and family can bring up a lot of disturbing emotions and anxiety. Even those whose lives are not directly touched by COVID-19 must face the changing world around them. For some, this can feel impossible.
According to All Points North Lodge President, Dr. Jerry Vaccaro, "Anxiety and depression are up three to four times what they were pre-pandemic. Substance use disorders have at least doubled." ¹ There have been increased markers of poor mental health since the pandemic began. The effects of COVID-19 and mental health are a cause for concern, and we'll need to be strategic as we address our individual needs from a healing perspective.
Here are some of the common mental health impacts of COVID-19, along with coping strategies and support options.
COVID Stress
Increased stress is one of the most significant impacts of COVID-19. People are under a lot of stress and pressure in all areas of life as the virus has changed our work environments, family life, and social expectations.
Some of the common symptoms of stress are:
Bodily aches and pains
Insomnia
Chronic illness flare-ups
Worsened mental health
Appetite changes
Mood swings
Substance abuse
Lack of interest in previously enjoyable activities
These symptoms of stress can impact a person's mental health. Stress can also worsen existing mental health problems. If left unmanaged, stress can cause physical symptoms as a result of your body's stress response.
COVID Anxiety
Many people have experienced overwhelming anxiety as a response to the pandemic. Anxiety is perhaps the hallmark of the relationship between mental health and COVID-19; with so many new stressors in place, it is understandable that many are incredibly uneasy.
There are many reasons to be anxious during a pandemic. Some of the common worries about COVID-19 include:
Personal safety
Safety of loved ones
Financial problems
Job insecurity
The overburdened healthcare system
Social isolation
Changes in procedures everywhere
Scarcity of necessities and services (e.g., groceries/personal items, childcare)
Anxiety and stress go hand in hand, and just like depression, anxiety can cause a lot of psychological and physical health problems beyond just worrying a lot. COVID-19 anxiety syndrome is becoming a pandemic phenomenon.²
COVID Depression
Depression has many causes that differ for each person. The social isolation that comes with COVID-19 has been hard for a lot of people. Coupled with empathy fatigue, unfathomable loss, and overwhelming grief, we are seeing worsened depression symptoms across the nation.
Depression is characterized by a chronically low mood. Some of the other symptoms of depression include:
Excessive crying
Low energy
Low motivation
Appetite changes
Chronic fatigue
Inactivity throughout the day
Isolating oneself from loved ones
Feelings of hopelessness
Suicidal thoughts
The pandemic triggered symptoms in individuals who were never at risk for depression, and may have increased symptoms from those who struggled with depression before the pandemic. Social distancing requirements, decreased access to previous healthy coping mechanisms, and additional stress have unsurprisingly left many people feeling alone and hopeless.
COVID Coping Strategies
While the effects of COVID-19 and mental health problems are tough to manage, there are ways to help. Healthy coping strategies³ can reduce the mental health impact of COVID-19. It is essential to have a toolkit of coping strategies to combat mental crises. While this toolkit may vary from person to person, everyone can incorporate some standard practices into their COVID mental health kit.
Disconnect From News
While it is important to stay informed, lots of people may benefit from taking a news break. You should not feel responsible for keeping up on every negative news story or death toll; this will only serve to stress and depress you more, especially since much of the pandemic is out of our control.
You can try to limit your news intake to one article or television segment per day. This will keep you educated without overwhelming your emotions. You can either seek out a news summary via email or find a reliable outlet on social media that frames the news less reactively.
Practice Self-Care
It is always important to take care of yourself physically and mentally, but especially during long periods of heightened stress like the pandemic. If you regularly practice self-care, you are less likely to feel overwhelmed by stress. Self-care is an ongoing personal endeavor that should relax and rejuvenate you.
Some examples of self-care activities include:
Reading a book
Eating healthy, delicious meals
Low impact exercise like yoga
Taking long walks
Meditating and/or practicing breath work
Taking a hot bath
Avoiding alcohol, tobacco, and other drugs
These may seem like small steps, but they will give you a chance to relax. It can be stressful to be in a constant state of uncertainty. Self-care is a chance to check in with yourself and see if there are any unprocessed feelings. COVID has presented us with many new challenges, and we may experience a range of emotions as we navigate the new normal.
Connecting During COVID
Social distancing does not eliminate all forms of communication. You can reach out and connect virtually with family, friends, and other loved ones. Connection is essential for human survival.
Stay-at-home orders and social distancing may make you feel like you are all alone, however, millions of people are feeling the same way. You are not alone in your pain, and talking about your worries with friends and family can help you feel more supported.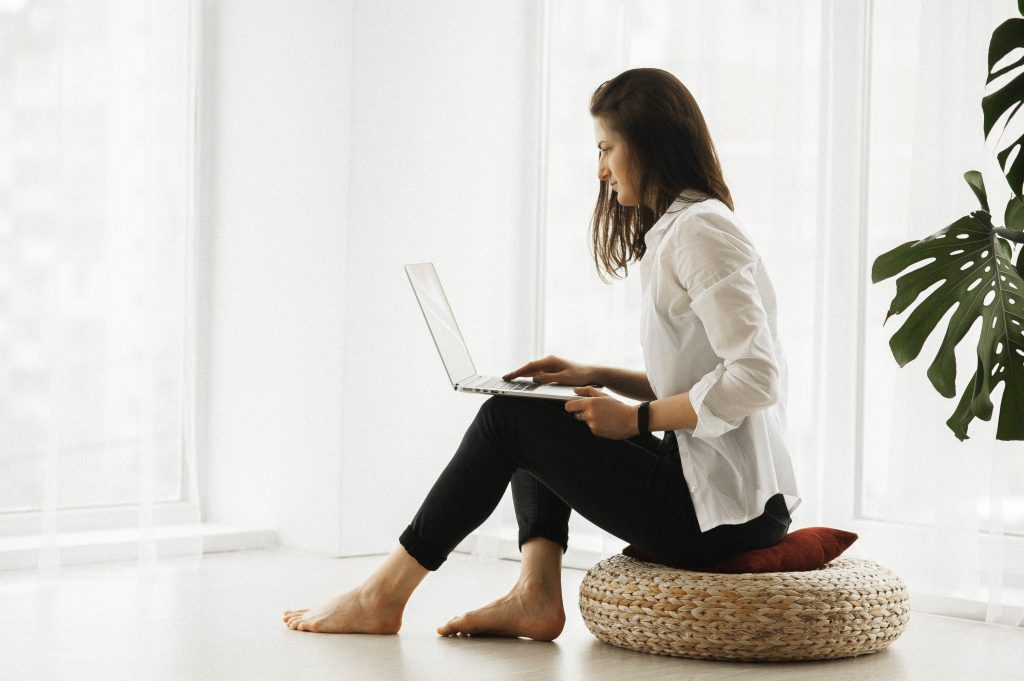 COVID Mental Health Support
Although it may be challenging to find an available mental health professional during a pandemic, more therapists are offering virtual telehealth therapy. Therapists are trained to help you find solutions for your mental health problems and work through the complexity of a global trauma. A therapist is a safe, neutral person who will listen to your thoughts and help you get closure around lingering issues. The vast majority of mental health professionals offer services via secure video chat. This means you can receive support anywhere without risking your health.
Virtual counseling also allows you to talk with multiple mental health professionals through one access point. Some counseling services are even providing 24/7 chat lines with therapists. Mental health and COVID-19 are tough topics to navigate, but mental health support is available.
Heightened stress can increase the risk for harmful behavior. If you feel that you need more support for mental health, trauma, and/or substance use disorder, you are not alone. Providers can still meet patient needs in person, and treatment centers are protecting client health with strict COVID guidelines.
A Loving Reminder
Here at All Points North Lodge, we are committed to providing quality mental health and addiction resources. We have numerous programs to help you, including telehealth services and in-person treatment options for mental health, trauma, and addiction at our facility in Edwards, Colorado.
We want to remind you that periods of heightened stress may bring up a barrage of emotions, and this is completely normal during a pandemic: we are all experiencing a colossal trauma, and we should not be expected to handle the burden of the pandemic individually. You are never alone in your struggles.
Your story matters and we want to be there to support you. At All Points North Lodge, we're here to help both via virtual therapy and in-person as you navigate mental health, trauma, and addiction during COVID and beyond. Contact one of our caring representatives by phone at 855-510-4585 or via to get started. This pandemic is challenging and isolating. Please don't suffer in silence — we're here for you.
Reference
Vaccaro, Jerry. "The Pandemic's Next Wave: Behavioral Health Problems." Medium, Invisible Illness, 12 Oct. 2021, https://medium.com/invisible-illness/the-pandemics-next-wave-behavioral-health-problems-7d7d584cca62.
Drake, Kimberly. "COVID-19 Anxiety Syndrome: A Pandemic Phenomenon?" Edited by Alexandra Sanfins, Medical News Today, MediLexicon International, 7 May 2021, https://www.medicalnewstoday.com/articles/covid-19-anxiety-syndrome-a-pandemic-phenomenon.
"Coping with Stress." Centers for Disease Control and Prevention, Centers for Disease Control and Prevention, 22 July 2021, https://www.cdc.gov/mentalhealth/stress-coping/cope-with-stress/index.html.