Finding LGBTQIA+ friendly therapy to address issues unique to the community and your lived experience can be challenging, but there is hope. More providers are making an effort to inform themselves of the challenges faced by the LGBTQIA+ community and actively taking steps to create an inclusive, safe space to provide support.
Our goal with this blog post is to share common mental health challenges experienced by people with diverse genders and sexualities. We'll also focus on the role of trauma-informed care and what to look for in a provider so that you can feel safe, accepted, validated, and empowered as you make choices about your mental healthcare.
Why Trauma-Informed Therapy Is So Important for the LGBTQIA+ Community
According to PsychCentral, people in LGBTQIA+ communities experience trauma at higher rates than straight, cisgender people.¹ The LGBTQIA+ community faces unique challenges to mental health because of trauma rooted in discrimination, adverse childhood experiences (ACEs), bullying and harassment, loss, violence and abuse, and traumatic forms of societal stigma, bias, and rejection.
While society has made some progress towards acceptance, people who identify as members of the LGBTQIA+ community still deal with persistent societal issues.
Effects of Discrimination
Many of us hear about LGBTQIA+ discrimination across the nation. However, those outside of the community cannot fully understand what it's like to experience this discrimination firsthand. Rooted in activism, the LGBTQIA+ community in the US has made extraordinary efforts to advocate for the rights of individuals around the world. Still, the trauma that stems from systemic oppression and decades of inaction can take its toll.
Every individual in the community has their own lived experience paired with a broader shared history of discrimination. Individual instances of discrimination can compound with the more systemic discrimination, deepening trauma and creating barriers that impact physical, emotional, social, spiritual, and intellectual wellness.
That's why it's so important for people outside of the community to educate themselves about current LBGTQ+ issues. With greater awareness, we can incorporate more inclusive treatment options while creating a safe space where everyone is comfortable sharing their story with an informed professional.
Common Sources of Trauma in the LGBTQIA+ Community
Violence
According to the Human Rights Campaign, in 2020, hate crimes based on sexual orientation represented 16.7% of hate crimes, the third largest category after race and religion. The report also showed an uptick in gender identity-based hate crimes rising from 2.2% in 2018 to 2.7% in 2019.² Society's overarching attitudes towards sexuality and gender contribute to these violent crimes, and LGBTQIA+ people have to live in fear of violence every day.
The impact of constantly living on high alert or in "fight or flight" mode leaves many LGBTQIA+ people with trauma. For those who have experienced such horrific violence, trauma-informed therapy is essential. The mental health impacts of violence cannot be ignored.
Healthcare Inequality
Sadly, healthcare is another arena where the playing field is unequal for marginalized groups, including LGBTQIA+ individuals. According to The Harvard Gazette, "Nearly a sixth of LGBTQ adults have experienced discrimination at the doctor's office or in another health care setting, while a fifth say they have avoided seeking medical care out of fear of discrimination." ³
This discrimination can trigger adverse health outcomes that compound as individuals avoid treatment. And discrimination doesn't just happen in the exam room; in 37 states, it is legal for insurance companies to deny coverage based on the patient identifying as transgender. People in the LGBTQIA+ community need healthcare as a fundamental human right, and discrimination can drive many community members into addiction, further mental health problems, and trauma.
It can be complicated to find insurance companies and providers that prioritize the needs of their clients over profits, leaving many LGBTQIA+ people suffering in silence. This is especially true for mental health: while therapy is an essential medical treatment, insurance companies and state laws can make access to therapy extremely difficult.
LGBTQIA+ awareness and representation are lacking in healthcare. According to Hippocrates Med Review, "A survey of 658 students from New England medical schools showed that 80% of respondents felt 'not competent' or 'somewhat competent' about medically treating patients of gender and sexual minorities." ⁴
In order to resolve the barriers to care, healthcare providers need to make an effort to inform themselves of common struggles in the LGBTQIA+ community and commit to promoting an inclusive approach.
Employment Barriers
Although workplace discrimination is against the law in some states, many loopholes allow workplace discrimination to go unnoticed and unaddressed. These loopholes protect businesses from legal action while LGBTQIA+ applicants are left scrambling to find another way to secure their employment and income.
Unemployment and financial strain can significantly impact someone's mental health. The consequences of social stigma and discrimination can be a huge burden for people of diverse genders and sexualities.
Addiction
LBGTQ+ people are twice as likely to form addictions than cisgender heterosexual people due to social stigma, discrimination, harassment, violence, and other issues.⁵ Substance use in the LGBTQIA+ community is higher than that of heterosexual populations. According to the 2015 National Survey on Drug Use and Health, "… sexual minorities were more likely to use illicit drugs in the past year, to be current cigarette smokers, and to be current alcohol drinkers compared with their sexual majority counterparts." ⁶
LGBTQIA+ therapy needs to be a safe place to discuss sexuality, the queer experience, external threats to mental health, addiction, and trauma, as well as one's lived experience. Treatment for mental health issues could drastically change the lives of many LGBTQIA+ people, especially when paired with a dual-diagnosis approach.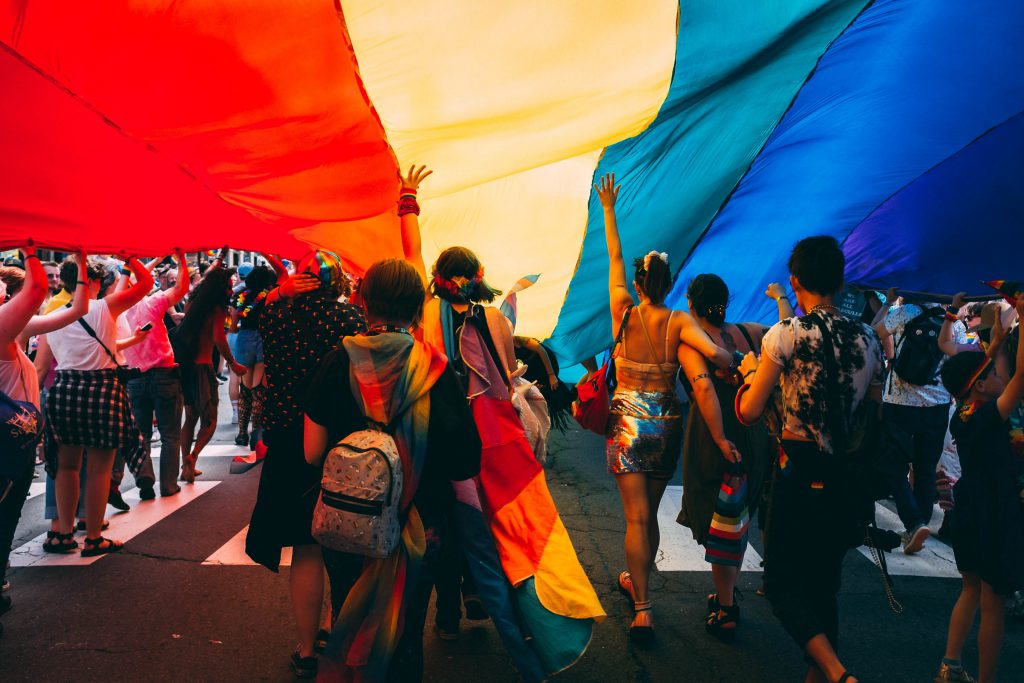 APN Lodge: A Safe Space
At All Points North Lodge, we are a safe space for the LGBTQIA+ community. Our programs are inclusive and diverse, treating people from all walks of life. We use modern research-based treatments to help you recover. Whether you struggle with addiction, mental illness, or trauma, we will work to create a custom healing plan designed exclusively for you.
APN Trauma-Informed Care
LGBTQIA+ individuals are 2.5 times more likely to develop depression, anxiety, and substance abuse.⁷ Individuals in the community need a therapeutic approach that is sensitive to the unique challenges they face. At APN Lodge, we employ trauma-informed professionals to care for your mental health needs.
We recognize that many LGBTQIA+ people carry trauma from past abuse, bullying, discrimination, and other similar circumstances. Our goal is to help you feel safe and respected in your identity. We'll work with you to create a treatment plan that considers your individual experience and identity. You do not have to suffer alone.
APN LGBTQIA+ Resources
We want to provide all patients with information about important world issues because LGBTQIA+ issues are human rights issues. We have had a virtual LGBTQIA+ information session that you can watch: Mental Health for the LGBTQIA+ Community with special guest, Gigi Goode. We also provide resources to patients residing at our facility to give them the support they need so that they can feel comfortable and safe being vulnerable in treatment.
Frequently Asked Questions About LGBTQIA+ Therapy
Do you have more questions about LGBTQIA+ therapy and how to find a qualified team who can help you? Here are some frequently asked questions we get about our specialized, inclusive therapy programs.
How Do I Find LGBTQIA+ Therapy?
We employ queer-affirming therapists at APN Lodge. Beyond the Lodge, you can seek LGBTQIA+ therapy by searching online using various databases:
National Queer & Trans Therapists of Color Network: https://nqttcn.com/en/
GLBT National Help Center's LGBT Near Me: https://www.glbtnearme.org/
American Association of Sexuality Educators, Counselors, and Therapists (AASECT): https://www.aasect.org/referral-directory
Alternatively, if you've found a therapist that you're interested in working with, you can ask them if they are LGBTQIA+ affirming, or look for an LGBTQIA+ Safe Space symbol on their website. You can do a bit of investigating to see if their treatment, guiding philosophies, and communication style align with your needs. It's also extremely beneficial to work with people that the community trusts – ask friends within the LGBTQIA+ community for referrals!
Is There Special Therapy for LGBTQIA+ Issues?
There are a few training and certificate courses that therapists can take to deepen their knowledge of best practices for LGBTQIA+ therapy. Many different providers are specialized in LGBTQIA+ issues and can help you work through your trauma. A good therapist will take your individual life experience into account, as well as the larger historic and systemic structures that impact your mental health.
What Do I Look for in an LGBTQIA+ Therapist?
You want to find a therapist who is vocal about creating a safe space to provide LGBTQIA+ therapy. Some therapists are LGBTQIA+ themselves and are passionate about helping the community. Most therapists have their credentials posted online; if you find someone you like, you can always ask them if you feel safe to do so. Other traits to look for in an LGBTQIA+ therapist are empathy, respect, open-mindedness, progressive views, and personal connection.
Your story matters. We'll listen. At All Points North Lodge, we're here to support you, via virtual therapy and in-person. Contact one of our caring representatives by phone at 855-510-4585 or via to get started.
Reference
Cassata, Cathy, and Jamie Smith. "How Does Trauma Affect LGBTQIA+ Communities?" Edited by Janet Brito, Psych Central, Psych Central, 25 Aug. 2021, https://psychcentral.com/lib/lgbt-suicide-and-the-trauma-of-growing-up-gay.
Ronan, Wyatt. "New FBI Hate Crimes Report Shows Increases in Anti-LGBTQ Attacks." Human Rights Campaign, Human Rights Campaign, 17 Nov. 2020, https://www.hrc.org/press-releases/new-fbi-hate-crimes-report-shows-increases-in-anti-lgbtq-attacks.
Powell, Alvin. "The Problems with LGBTQ Health Care." The Harvard Gazette, The Harvard Gazette, 23 Mar. 2018, https://news.harvard.edu/gazette/story/2018/03/health-care-providers-need-better-understanding-of-lgbtq-patients-harvard-forum-says/.
"LGBTQ+ Representation in Healthcare." Hippocrates Med Review, 9 Jan. 2021, https://hippocratesmedreview.org/lgbtq-representation-in-healthcare/.
National Institute on Drug Abuse. "Substance Use and SUDs in LGBTQ* Populations." National Institute on Drug Abuse, National Institutes of Health, https://www.drugabuse.gov/drug-topics/substance-use-suds-in-lgbtq-populations.
Medley, Grace, et al. Sexual Orientation and Estimates of Adult Substance Use and Mental Health: Results from the 2015 National Survey on Drug Use and Health, Substance Abuse and Mental Health Services Administration, Oct. 2016, https://www.samhsa.gov/data/sites/default/files/NSDUH-SexualOrientation-2015/NSDUH-SexualOrientation-2015/NSDUH-SexualOrientation-2015.htm.
"Diversity & Health Equity Education: Lesbian, Gay, Bisexual, Transgender and Queer/Questioning." Psychiatry.org, American Psychiatric Association, https://www.psychiatry.org/psychiatrists/cultural-competency/education/lgbtq-patients.