Before entering treatment, you might expect certain things: meeting new people, starting a fresh routine, and learning new skills. You might not expect to be greeted by a four-legged, tail-wagging furry friend with a cold nose and a warm paw. A dog in a treatment center? Yes!
Resident dogs are becoming more common in treatment settings, and clients are on the receiving end of all the benefits. The simple act of interacting with an animal can enhance the treatment experience and clients' overall well-being.
Therapy Dogs vs. Resident Dogs
Dogs can serve in a variety of roles at a treatment center. Some dogs are service animals, meaning they are highly trained to provide specific services to their owner. Some therapy dogs are trained to participate in certain therapeutic activities.
And then, there are resident dogs who are in more of a support role, providing companionship and comfort. Resident dogs are a part of the everyday routine on campus. They might go on walks with you or sit by your side when you're reading. They might come by and offer a cuddle before bedtime.
Having a dog on site might help you not miss your own furry friend quite so much. But they're more than just a house pet; their role is no less important to the treatment experience. Resident dogs can provide emotional support, comfort, joy, and even healing during a difficult emotional time.
The presence of a dog has many benefits that can enhance the treatment experience.
The Benefit of Dogs in Treatment
Dogs have been a part of the human experience for eons, and they have evolved right alongside us. We revere them as companions, guardians, and protectors; in some cultures, they are even part of the afterlife.
It's no surprise that we refer to dogs as man's best friend. We know they can be a source of comfort, laughter, and protection. Dogs connect with humans to promote physical and emotional health and well-being. Having a dog has been linked to physical and emotional benefits often referred to as the pet effect, including:
Improved life satisfaction
A sense of purpose
Healthy self-esteem
Reduced risk of cardiovascular issues and death following a heart attack
Less depression and other negative emotions
Fewer doctor visits or health issues
Some of these impacts can be particularly helpful for someone in treatment dealing with intense emotional issues.
Resident Dogs Help to Reduce Loneliness
Let's be honest: starting treatment and leaving home for an extended time can be an intimidating experience. You might miss family, friends, and especially your furry baby. Having a dog on-site can help to reduce feelings of loneliness and provide a source of comfort when you're missing home.
Humans are social by nature: we need emotional connection and physical touch. Science tells us that people who feel emotionally isolated or lack physical touch can experience increased depression and pain and struggle with lowered immunity. Luckily, dogs can help ease feelings of loneliness and isolation.
Whether it's a quick ear scratch or a walk on the grounds, a resident dog can be the companion you need to ease loneliness and help you focus on something positive. Even the simple act of petting a dog can be soothing. A soft, loving companion makes us feel less alone.
Resident Dogs Help Us Connect with Others
If you have a dog, you've probably experienced the spontaneous interactions that tend to happen when you're out on a walk – they're kind of like a cute ice breaker. People seem to relax and connect more naturally when a dog is present, and that's not your imagination.
People with companion pets tend to be more open to getting to know others. People perceive dog parents as more friendly, supportive, approachable, and conversational. Dogs make it easier for us to connect with others in group settings because they make people feel more cooperative, friendly, attentive, and engaged with others.
In treatment, you'll spend a good bit of time with others in the program. Whether in a formal group or relaxing between meetings, you'll have lots of opportunities to meet new people. Having a dog in the treatment setting can make entering a new routine with new people less stressful and encourage social connection.
From walking through the door for the first time or attending your first group session, a resident dog can be that friendly support we all need.
Resident Dogs Are Great Stress-Relievers
Treatment is emotionally taxing, and sometimes, opening up isn't easy. A dog can help you cope in stressful situations by reducing anxiety. Dogs can help lower your heart rate and stress hormones after a stressful event, even more than interacting with a friend or handling things independently.
Watching dog videos has a similar effect, even without an in-person furry friend. It's no wonder that businesses of all kinds are bringing dogs on site to help people deal with stress.
Unlike humans, dogs are non-judgmental and capable of offering unconditional love and support. They live in the moment and don't know or care what your past may be. Dogs seem to have a keen sense of when they're needed most; whether you have to make a tough call home, you're struggling with the new normal, or you just finished an intense family session, having a dog nearby to comfort you can help to dissipate the stress.
Resident Dogs Promote Good Health
Dogs offer several health benefits, from reduced risk of death to greater life satisfaction and overall good physical and mental health. Why does that matter in treatment?
During treatment, you're going to be unpacking and working through a lot of intense emotions. Finding a way to care for yourself physically, emotionally, and spiritually is essential.
Physical and emotional wellness can provide a solid foundation for your recovery process. A resident dog can help give that extra incentive to go for a walk, play ball, or step out to get some sun and fresh air together.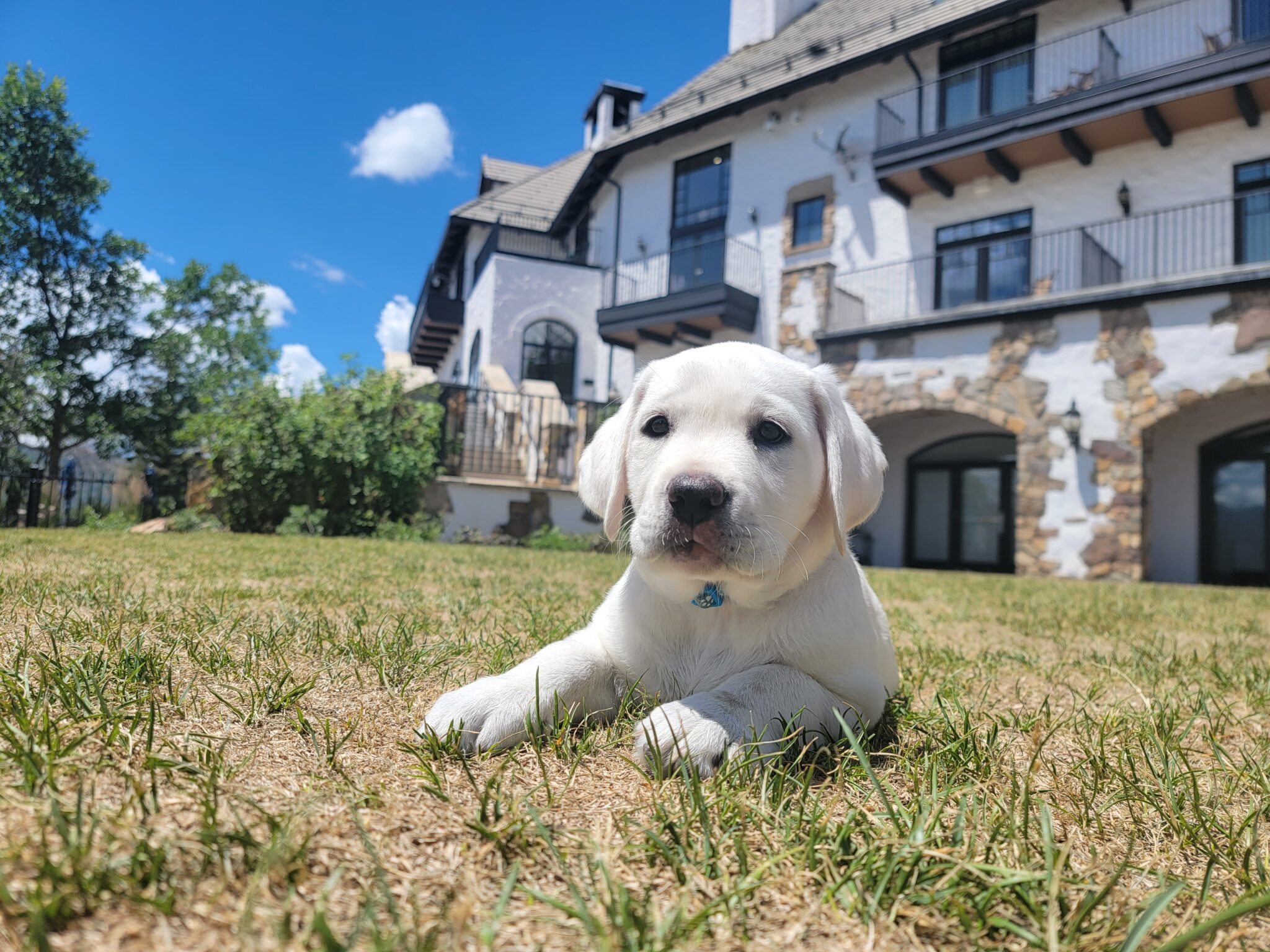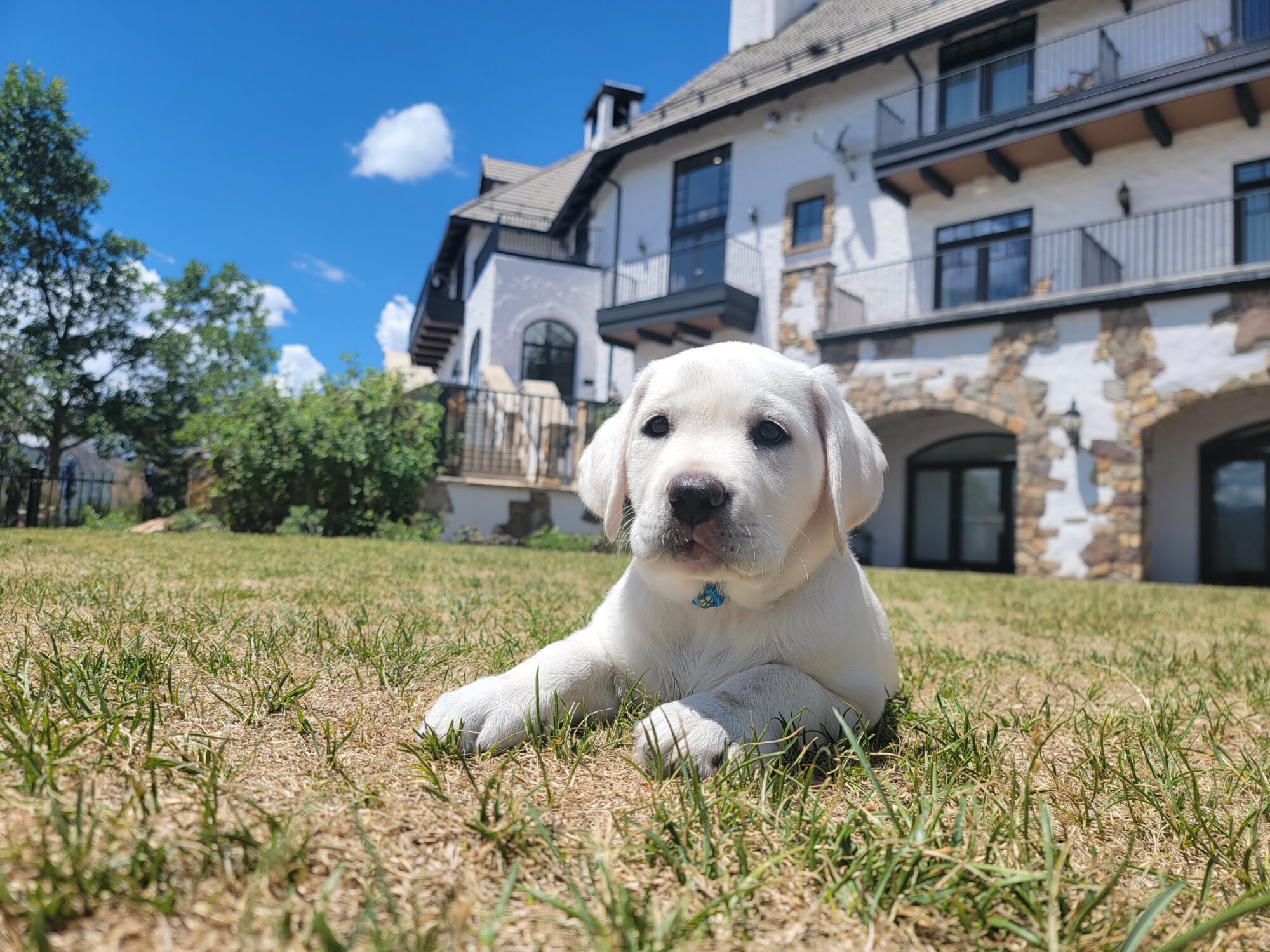 Hope at APN
All Points North Lodge is proud to share that we've welcomed our own resident dog. Hope is a sweet and spunky white Labrador Retriever who has joined our Hospitality team as the Lead Coordinator of Snuggles. Right now, she's focusing her studies on learning the ins and outs of the Lodge from her dad, our Director of Hospitality, Kevin Shields.
Hope will serve as our four-legged ambassador of good feels and will share snuggles, offer emotional support, and shake paws. Clients and APN employees will be able to spend time with her and find that comfort, support, or just plain fun that only a dog can provide.
We will share updates on Hope's life at the Lodge on the blog and via Instagram @apnhope.
Find Hope and Healing at All Points North Lodge
Healing is a journey, but you don't have to move forward alone – sometimes, support comes with four paws. At All Points North Lodge, we understand the importance of support and comfort in all its forms. Our expert intake specialists are ready to help you take the next steps towards healing and recovery.
Nestled in the beautiful Rocky Mountains, APN Lodge offers a luxury rehab experience with the perfect environment for healing, personal growth, and recovery. We employ evidence-based, client-centered treatment approaches supervised by our team of clinicians.
Our team has the expertise to guide you through the treatment process from referral to recovery. To learn more, reach out using our contact form. We're here to support you, and Hope will be ready and waiting to greet you at the Lodge.